The theme is compulsory for every website which is built with WordPress. It decides how your website will look and how visitors will interact with your content.
How to choose a WordPress theme became a difficult task because tens of thousands of themes are available, and millions of websites are using them. So, everyone tries to make their website unique and corporate look and feel.
In this blog, I will share expert tips to help you choose the right theme that will help you to build a strong foundation for your business website.
How to Choose a WordPress theme in 2022?
1. Lightweight and Fully Optimized
In any CMS based website, the theme plays a vital role and directly affects the site's foundation and performance. Many WordPress themes are not fully optimized, and they cause slower website loading speed which leads to a down conversion rate.
I am coming to the question that you think that how can you choose a lightweight theme because you don't have much knowledge of SEO and optimization. Are you need to ask any developer? Is it a technical thing that requires any skills? The answer to all these types of questions is simple; you need to use a GTmetrix to check its performance.

Now, another question arises you can easily test any free theme by installing it on the web, but how to test the speed of a premium WordPress theme. Before purchasing a paid theme, you can check their demo website and test it using any performance testing tool.
This is not perfect because they might be using a faster web hosting server or including any tracking scripts that wouldn't be a part of your site. But you can get an idea of that particular theme and take your decision. Make sure to go with the best web hosting server located in your country or closest country. It will reduce your latency rate and help you load your website faster.
2. Highly Responsive
According to Statista, 90% of users use their mobile devices (including tablets and phones with different screen sizes) to go online. So, a fully responsive theme adapts any screen size and displays your website perfectly.
Before purchasing a premium theme, check their demo link on different mobiles and resize your browser windows to see how it looks on smaller screen sizes. How is it displays menu and navigation on mobile devices? Few of the themes have poor navigation menus on mobile screens and are awkward to use.
Browse all pages, including the blog's main page and check how the videos and images are displayed in a single blog post. When you have checked it completely, you can go with it.
3. Plugins Compatibility
According to my experience, most business owners look for a fully functional theme along with a decent layout design. For example, if you build an educational website, you might look for a theme that includes built-in school management features.
Please don't take this unprofessional decision because your theme will include extra functionality that you're not using, and it downs your site performance. Choose a theme for its design and look for relevant plugins to enhance your functionality as needed.
For example, if you plan to run a web hosting business and want to integrate WHMCS with WordPress, you don't need to choose a theme that supports WHMCS and go with readymade plugins such as WHMPress to start selling with WHMCS.
If you think your required plugin is not available in the market (which is almost impossible), you can ask any WordPress plugin developer to build a custom plugin as per your requirements.
4. Reviews and Ratings
It is always the best thing to read clients' feedback and check reviews of themes, plugins or any other online purchases to understand how it works. You can get an insight into what people like or dislike about any theme or plugin.
Pay attention to the 4- and 5-star reviews and read their comments to understand their positive things and 1 and 2 stars to check what is not so great. I would recommend you not go with a theme or plugin with a rating below 3 stars.
For example, the WHMPress plugin has a 4.6 rating, which means you can read their reviews and go with them.
5. Most Secure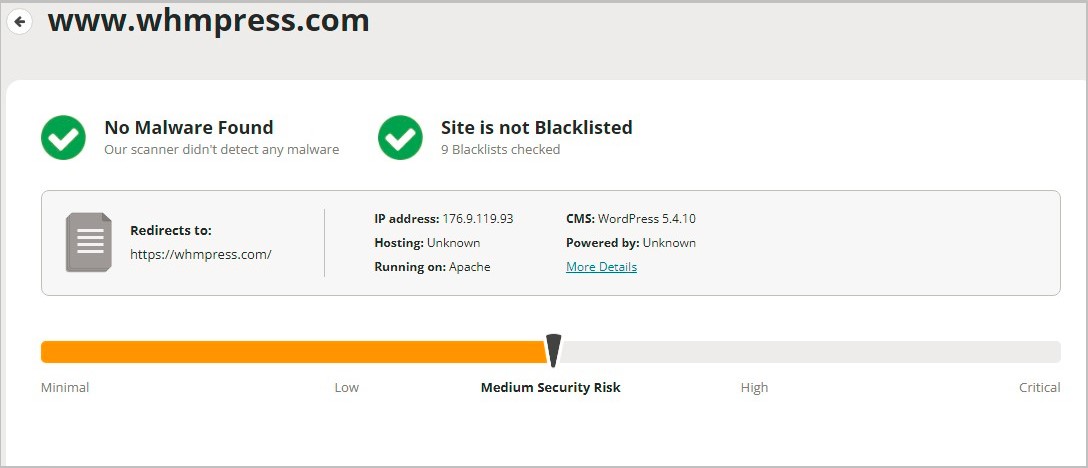 Every developer claim that they provide a fully secure theme, but you can test it without being familiar with coding. Simply install any theme checker plugin or use any online tool such as Sucuri Site Check and check malware, out-of-date CMS and vulnerable WordPress plugins.
You can go with a theme with just a few issues, but if you experience many prominent issues, it is not a good choice for you to continue with it.
6. Release Frequency
In this ever-growing world, you can't say that your theme is well-structured and it cannot be outdated. Every year, coding standards are updated that can cause conflict, so you have to choose a theme updated regularly. Expert developers highly recommend not using those addons that haven't been updated for a maximum of 2 years.
7. Ready to Translate
In future, if you make your website available worldwide, then you have to choose a theme that has ready to translate features. Such a theme will include supporting RTL languages such as Urdu and non-Latin alphabets. If you take your decision proactively, you are saving your precious time and money to pay a developer to make your existing website translation ready.
8. Avoid Free Themes
If you're a developer, you can install any free theme or build a theme from scratch, but if you are not a developer, it is highly recommended to go with a premium theme.
Why choose a premium theme is an interesting topic, but premium themes have cleaner code and are more secure than free themes. But keep in mind you can find a free theme with perfect code and a premium one with poorly written code, but you have to follow the above-given tips before finalizing your decision.
Final Words
Avoid those themes with massive features and choose a lightweight and simple theme that comes with all essential things. If you go with a premium theme with a lot of features, you are using a few of them and loading all those scripts and codes will cause poor performance.
At creativeON, all WordPress websites hosted on our fully managed WordPress hosting plans work fine with the highest speed. But we experience many things from time to time and update the CMS, plugins, PHP version, and close other loopholes that can cause vulnerability to provide a safe and secure hosting experience. Additionally, we also help and guide our potential and existing clients 24/7 to provide a great experience with us.